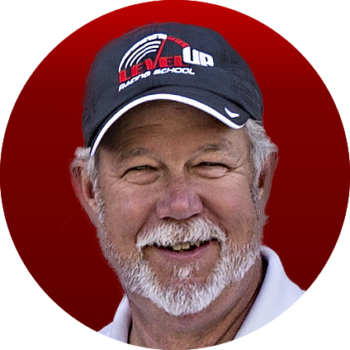 STEVE DEBRECHT
Instructor
Live: "Rancho-Relaxo" St.Albans, MO. (50 min. from STL airport, 10 min. from civilization)
Married to Glenda (destined for sainthood as the world's most tolerant spouse)
No Children
Automotive background: Worked all manner of jobs at the now defunct DeBrecht Imports Ltd. 8510 Hwy 66 from Scrubini (detailer), mechanic, service writer, sales,
Sales manager until as Vice-President/General manager I managed to successfully tank a fifty year-old business. Ran a dirt bag used car lot until I ran off and joined the circus of racing school / ride &drive business.
Racing background: started in SCCA autocross and Pro-Rally before transitioning into SCCA club racing. Won several championships in SCCA Midwest division in GT-4 and GT-5. Moved into IMSA professional racing. Ran the SAAB factory team in the IMSA Firestone Firehawk Endurance Championship out of our shop (did I mention we are now out of business). Was lucky enough to get hired as a driver for Paul Rossi performance the Mopar factory team. Highlights were winning Sebring twice and one win at Road Atlanta. The team amassed multiple manufacturer and driver championships in the late '80's and early '90's.
Instructing/Teaching background: Did my first Ride & Drive as a Datsun racer in Nineteen Hundred and Eighty-Two (introducing the wildly successful Pulsar NX).
Was involved in all of the Hot Laps programs for Pontiac (Bonneville, Grand-Am, Firebird Formula, Grand-Prix, GTP).
Worked the huge Chrysler LH (last hope) and LHS programs. Have done numerous programs for virtually the entire alphabet soup of manufacturers. Acura, Audi, Bentley, BMW, Cadillac, Chevrolet, Chrysler, Dodge, Ford, GMC, Hummer, Mazda, Mercedes-Benz, Pontiac, SAAB, Subaru, Suzuki, Volkswagen and Volvo.
Started instructing for Skip Barber Racing School in 1989. Have led all curriculums from driving schools, car control clinics through 3 day racing schools, lapping days, Advanced 2-day racing schools. Race Control, Chief Observer/Coach on Race weekends, Pit-Lane coordinator on Race weekends. Lead Instructor on numerous corporate programs. Rated as Master level instructor for SBRS. Private coaching and set-up consultant for SCCA club racing.
Hobbies: Amateur Mixologist with a Lifelong pursuit of the Ultimate Margarita. Enjoy Sushi, Blues music and the occasional Backgammon game.